Infographic: 15% Use Social Media to Find Local Businesses – Marketing Technology Blog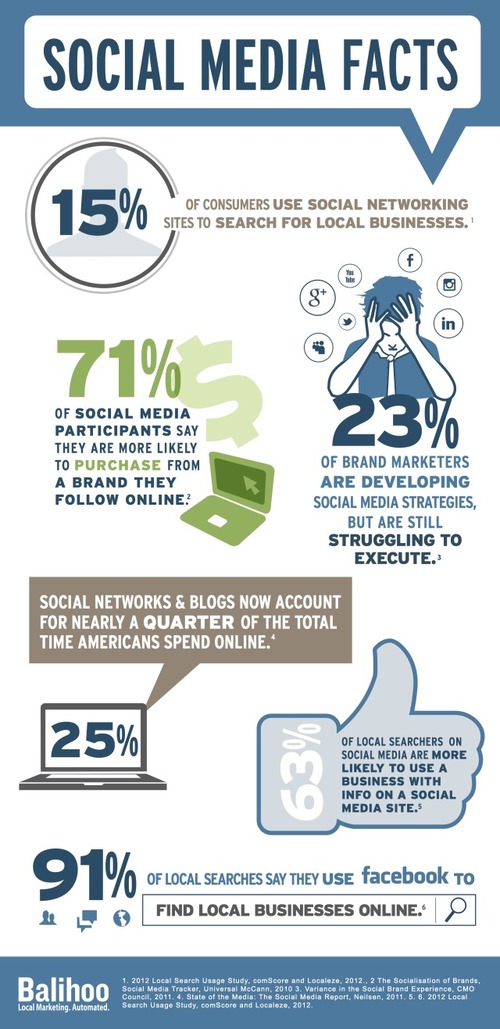 Did you know 15 percent of consumers use social networking sites to search  for local businesses? Too many companies are missing out on the  opportunity to develop their own community within social media, helping to grow  their authority and awareness within the networks of people most interested in  their products and services. Even those who recognize the opportunity are still struggling to execute it, though.
The awareness of the benefits of supporting local businesses is very high today. Growing the local economy through small businesses is a great recession-buster, and customers know it. Even a web-based business, as opposed to a brick and mortar store, is part of a local economy. With consumers using social media to find local businesses, failing to fully utilize the marketing potential of social media could have big consequences for a small, local startup. Social media is a key part of inbound marketing, drawing people to your main site and allowing them to keep up with the company once they become customers. Make sure you're taking advantage of the potential customers in your local community.
Read more: http://www.marketingtechblog.com/social-media-facts/#ixzz2Rwqp9Tbl
See on Scoop.it – Quotefish Small Business Report Spring
See on www.marketingtechblog.com
---